ASV Photo Team members Maureen Kelley and Katie Tuten (center) receive a warm welcome by Archbishop Blasé Cupich on Saturday, December 12th as they sell ASV ornaments in the historic Saint James Chapel, located in the Archbishop Quigley Center, the former minor seminary of the Archdiocese of Chicago. The elegant chapel is located at 835 N. Rush Street and Chicagoans of all faiths visit to pray, attend religious services and admire the exquisite stained-glass windows surrounding the interior of the chapel.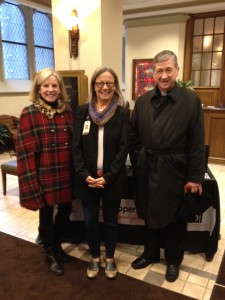 The stained-glass windows in Saint James Chapel are so extraordinary they have been called the "crown jewels of Chicago's architectural treasures." Friends of the Windows, a civic, multi-faith group dedicated to the chapel's conservation gives tours and sponsors concerts to invite more people to learn about the chapel. Today, Loyola Academy's elite Honors Chamber Singers performed a Christmas concert in the chapel and the Friends of the Windows invited ASV to be part of this special holiday event.
ASV artist Mike B. captured the detail and beauty of two of the stained-glass windows in photos he took, one featuring the Manger of the Christ Child and the other, featuring a statue of St. James. These images are now reproduced on lovely ornaments that are new to the ASV 2015 Holiday Ornament Collection.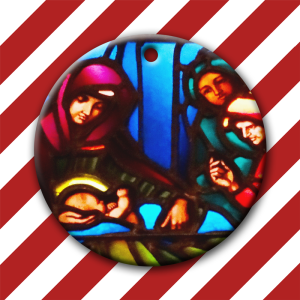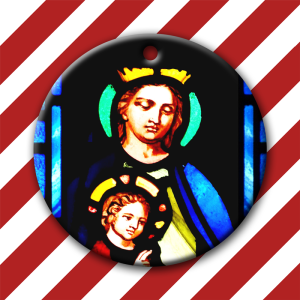 The two new chapel photos, the new Pope Francis ornament, plus the Art Institute Lion and Lighted Walkway ornaments are still available for purchase.  Please click the HOME page of this website to order.  Quantities are limited to please order right away, and remember that you are directly supporting the artist who took each photo with every ornament you order.
May God bless you and your family this holiday season, and throughout the New Year.
Merry Christmas, and thank you for your continued support of After Supper Visions.