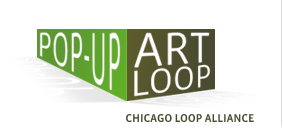 "After Supper Visions" is proud to be one of four Walk-In art gallery exhibits debuting tonight through Pop Up-Art Loop, a program sponsored by the Chicago Loop Alliance, which is a business organization whose mission is to unite Loop businesses and organizations in support of one another.
Come to the ASV Opening Night Reception tonight, from 5-8PM, at 23 E. Madison, and stroll through the gallery as we kick off this exciting month-long exhibition. This event is free and open to the public, and a self-guided tour of the artwork will be available.
You can purchase prints and note cards of the featured photos at our new online Pop-Up Store (see the HOME page of this website). Or stop by 23 E. Madison Street on Wednesdays, Thursdays and Fridays, from Noon-6PM, throughout October, when we will have an ASV Store open on site.
Seventy percent of all purchases go to the artists who took the photos. The ASV program continues to transform lives and unite all Chicagoans who appreciate fine art and the many ways there are to capture our lakeshore, historic landmarks and world-famous architecture on film.
The ASV Pop-Up Loop Opening Night, tonight Thursday, October 3rd, from 5-8PM at 23 E. Madison, Chicago.