Throughout the month of December, Catholic Charities and its inspiring After Supper Visions program are being featured in the Main Lobby of First Bank of Highland Park, located at 1835 First Street in Highland Park, IL. The exhibit is presented on the bank's "Ruth Fell Wander Community Art Wall," and it includes After Supper Visions photos along with a wide variety of informational materials about the 174 programs Catholic Charites offers in Cook and Lake counties, to people of all races and religions.
At a special opening night reception at First Bank of Highland Park on December 3rd, Audrey Goldman, bank spokesperson, commended the finished display, saying, "I am amazed when I hear the number of one million people served each year by Catholic Charities. We were delighted to feature Catholic Charities on the art wall two years ago, and when I recently read about the After Supper Visions program, I immediately thought that it was time to feature Catholic Charities again, along with After Supper Visions."
Angie Carlstrom, Assistant Vice-President at the bank and a Catholic Charities volunteer echoed the same thought. She said, "The photography is just beautiful."
As a private, family owned and operated bank, First Bank of Highland Park includes community outreach in its mission statement. As stated by CEO Randy Green on the bank's website, "With a bank-wide culture of caring and giving we consistently help support our growing community." In 2017, the bank's directors, officers and staff served on boards and committees of local non-profit organizations to provide over 2,500 hours of volunteer service. As Audrey explains, "For over sixty years, giving back has been part of who we are."
The community wall was created in 2002 to showcase artwork from local schools and non-profit organizations. The wall is named after Ruth Fell Wander, a former member of the bank's Board of Directors who was extraordinarily generous with her time and talent in serving First Bank of Highland Park and numerous civic and philanthropic organizations. Audrey adds, "In honor of Ruth, this wall was designed to give greater visibility and increase public awareness about not-for-profits that promote worthy causes. In this case, self-esteem is so important, and After Supper Visions is all about building self-esteem, and opening doors to pathways."
Terri Denny, Catholic Charities Senior Director, Lake County and Regional Services expressed appreciation for the bank's generosity in offering Catholic Charities this exhibit. At the reception Terri said, "We are so grateful for this wonderful opportunity to increase awareness of Catholic Charities and After Supper Visions. Your community art wall provides an amazing venue for bank customers, and all neighboring residents to learn more about the services we provide." Catholic Charities Lake County Regional Program Manager Lisa Roti added, "We owe this all to Audrey! It was her great idea, and we so appreciate her making this all possible."
On a recent visit to the bank, to set up the display, a passerby approached Lisa, expressing concern about several of her acquaintances who are seniors. "Do you investigate elder abuse?" the woman asked Lisa. Lisa responded, "Yes. We have a hotline that anyone can call, twenty four hours a day if they are concerned about any aspect of a senior's life." Lisa further explained, "We often meet people who are seeking assistance in one area while we are working on helping in another area. We are always grateful for any opportunity to help someone in need. More information can be found at catholiccharities.net."
All are encouraged to go to First Bank of Highland Park's Facebook page and "like" the December community art wall display. First Bank generously offers to make a monthly donation to each organization featured on its community art wall, $2 donation for every Facebook "like" up to $250. As Audrey says, "There are many benefits of us all supporting one another. We invite our clients and everyone in our area to stop in our bank this month and learn more about Catholic Charities and After Supper Visions."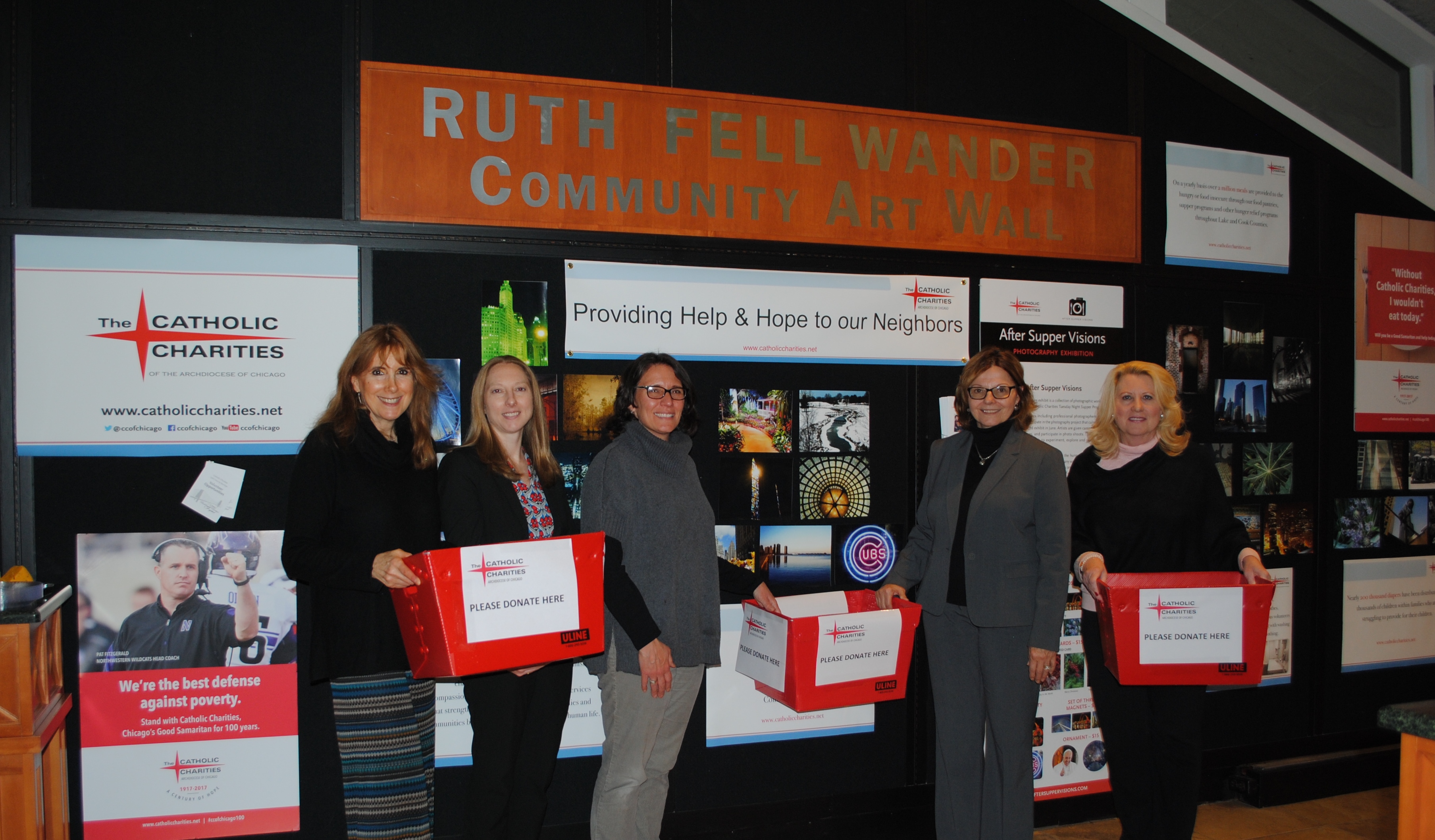 Attendees at last evening's Opening Reception included (l. to r.): Audrey Goldman, Angie Carlstrom, Lisa Roti, Terri Denny and Karen Daniels.
See below for additional photos of this wonderful exhibition.