Warmth and smiles filled Michigan Shores Club in Wilmette on the evening of October 2nd, as professional photographer and philanthropist Jody O'Connor was celebrated and honored , along with the ASV Photo Team and all ASV artists, at the 2nd Annual Harvest of Hope dinner, sponsored by the North Regional Services division of Catholic Charities of the Archdiocese of Chicago.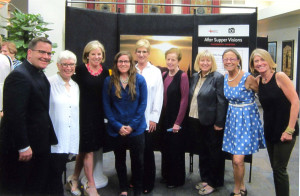 Jody O'Connor (right) shares a joyful moment with her ASV colleagues on June 12th at the 2015 ASV Photo Exhibition. Joining Jody are (left to right) Fr. Wayne Watts, Associate Administrator of Catholic Charities and Pastor of St. John Berchmans parish, volunteers Ellen Gorney and Maureen Kelley, Catholic Charities Program Director Noreen Russo, volunteers Mina Gerall and Linda Roxe, Catholic Charities Sr. Vice-President Kathy Donahue and Catholic Charities Program Director Katie Tuten.
In presenting Jody with the 2015 Heart of Charity Award, Monsignor Michael Boland, President and CEO of Catholic Charities said, "Tonight we are honoring a volunteer who over 13 years ago came up with a wonderfully brilliant idea to help guests of our Evening Supper Program. Thanks to the hard work and dedication of Jody O'Connor and the entire After Supper Visions Team, the After Supper Visions Program was born."
Jody was lauded especially for her steadfast dedication to the program over thirteen years. In addition, Jody was singled out for the way she continues to help ASV expand, adding photography classes, laptop storage for photos and group discussions among the artists, so that each year all participants grow in their knowledge of and skill in photography, whether they are new or returning to the program. The genuine friendship that Jody and Photo Team members offer to every artist, and the way they affirm each person's talent, imagination and sense of creativity are at the heart of all they do.
Congratulations, Jody and the ASV Photo Team!