Thank you for visiting our site. You can help support our program by purchasing Fridge Magnets, Drink Coasters or Notecards. You may also support our program by purchasing 8 x 10 Matte Prints from the Exhibit Gallery; and there are still a few Christmas Gifts available as well.

How to Buy
To Order:
Choose the gift you would like, then Click the "add to cart" Button. The cart will appear on the top right-hand side of the screen.  A $3.00 shipping charge will apply to all orders (regardless of how many sets are purchased). If you represent a corporate entity, please visit our Corporate Sponsorship page for Custom/Bulk ordering. Thank You and God Bless!
Large Fridge Magnets 
The Large Magnets (right) feature pre-selected photos from After Supper Visions' Photo Exhibits.
Photos include the Navy Pier Ferris Wheel, Calder's Flamingo Sculpture and Chicago's Beautiful Skyline. They come in a pack of 3 for $12.00 and measure 2 x 3 inches.
"They are perfect for holding up the kids' Masterpieces" -Mom
Drink Coasters (with storage tin)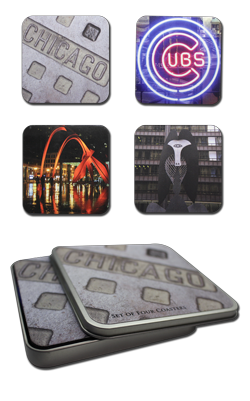 4 x 4 inch Foam Drink Coasters feature photos pre-selected from After Supper Visions' Photo Exhibits. The set includes 4 Coasters for $20 and includes a durable storage tin with one of the photos printed on it as well.
The top has a stunning high-gloss, water-resistant print and the bottom is a fine black felt. Sandwiched between these layers is a rugged thermal plastic.
"We like to use the coasters to keep the scotch from putting rings in the antique coffee table" -Grandpa
New Products for Sale
Notecards
3 x 5 Bi-fold Notecards featuring photos pre-selected from After Supper Visions' Photo Exhibits. The Notecards come in sets of five (5) and are printed on beautiful and durable card stock. The cover prints have a glossy finish and the inside awaits your thoughtful comments. 
Each set contains 5 Blank Cards with 5 Different Images
SET OF 5 CARDS – $10.00
Floral
Chicago